Well…American Canyon came out of the holidays with only two active homes on the market…or is that 2?? Neither way the number comes out looks very good. We're sitting on 5 this morning, but from everything that I'm hearing and reading, lack of inventory is going to continue to be the name of the game throughout the region.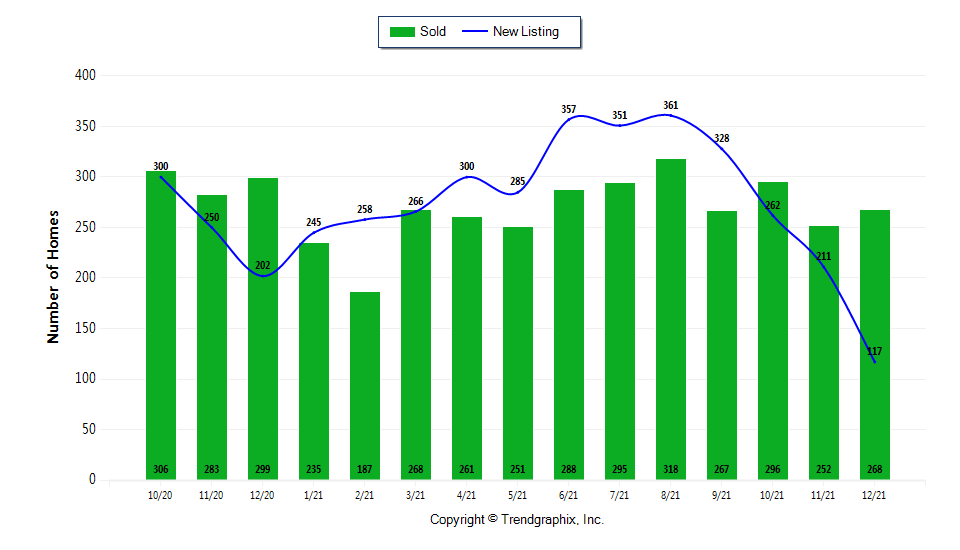 I'm attending the RIS Media's Real Estate Conference this morning (mostly insider and marketing stuff) but there has been quite a bit of talk about what inventory is going to look like – in particular what the spring selling season will look like. There's no question that we're headed for another year of decreased inventory. The only question is whether or not the housing prices will rise so far up that buyers can't afford to purchase.
New listings (homes new to the market) were down 👎🏻 42% this past December. (In real numbers, there were 85 fewer new homes for sale than last year…and last year was already bad.) However, bucking the national trend, there was a 10% drop ⬇️ in sold homes between December 2021 and December 2020. Nevertheless, the median sales price is up ⏫ by almost 12% from last year. The market is definitely en fuego 🔥 and there isn't any data that's showing me otherwise.
No matter how we look at the 🔢 it's a fast market. But what does it really mean for you, as a consumer?
On the Selling Side
Do not, for a moment, think that it's going to be as easy as sticking a "For Sale" sign in the ground and getting multiple offers. Have pride of ownership when it comes time to put your home on the market. It doesn't have to be a complete makeover (actually, in this market I'd encourage you not to do an overhaul if you're going to sell) – but you should put your best foot 👣 forward. Clean up the front yard, declutter inside, and do some touchup painting. There are two primary pinch points where a buyer makes a decision on a home:
The first time they see it on the internet
The first time they see it in person
You have less than 1 second to gain the buyer's interest online and less than 3 seconds to get the buyer interested when they're standing in front of the house. Make every one of those 4 seconds count.
On the Buyer Side
There is an axiom in real estate about location. If location is still at the top of the list, I think that it's time to add patience as 1A. There's simply not enough inventory to account for the number of buyers. We are at a point where attrition rules the day. Assume that it will take 4-6 months of actively looking. Assume the you will write 5-10 offers before yours gets accepted. One caveat – you don't have to give away the farm. Do not name your first born after the seller. Do not waive inspection, appraisal, or loan contingencies. If you have patience and the right agent, you will get to the promised land.